Kuala Lumpur, 23rd October 2023 – In a landmark moment for international business relations, the Uganda National Chamber of Commerce and Industry (UNCCI) and the Arab Malaysia Chamber of Commerce (AMCC) officially entered a Memorandum of Understanding (MoU) during a virtual signing ceremony held on October 23, 2023. This momentous occasion was witnessed and celebrated by delegates and dignitaries from both sides, with the meeting being facilitated online.
The idea to explore this collaborative endeavour was initially mooted by the Islamic Development Bank (IsDB), specifically the Cooperation and Capacity Development Department. The IsDB is a key development player in supporting international partnerships for economic growth among its 57 member countries. One of the ways this is done is through the use of Reverse Linkage, the IsDB's homegrown South-South and Triangular Cooperation (SSTrC) modality through which private sector partners, among others, are facilitated by the Bank to share knowledge and expertise in a Win-Win and sustainable scenario.
The MoU signing ceremony signifies the formal commencement of a partnership designed to foster mutually beneficial relationships, promote trade and investment, and stimulate economic cooperation between Uganda and Malaysia. The UNCCI and AMCC are committed to building a bridge that will open new avenues for business opportunities in sectors such as Halal, technology, tourism, agriculture and many more.
This historic collaboration will allow both chambers of commerce to leverage their expertise, resources, and networks to facilitate:
Trade Facilitation: Simplifying trade processes, reducing barriers, and promoting bilateral commerce.
Information Exchange: Sharing valuable market insights, research, and industry updates.
Networking Opportunities: Facilitating connections between business communities in Uganda and Malaysia.
Capacity Building: Supporting businesses with training and resources to enhance their capabilities.
Advocacy: Collaborating on issues of common interest and mutual benefit.
During the virtual ceremony, representatives from both chambers expressed their enthusiasm for this collaboration and the potential it holds for their respective business communities. The partnership is expected to yield countless opportunities, enhance economic growth, and strengthen diplomatic ties between Uganda and Malaysia.
Mr. Olanya Jimmy, Secretary General of UNCCI, emphasised the importance of this partnership, stating:
We are thrilled to embark on this journey with our counterparts in Malaysia. Together, we aim to open doors for our businesses and help them thrive in a global marketplace.
Ms. Amnah Shaari, Vice President and Founder of AMCC, echoed this sentiment, adding:
This MoU represents not only a partnership between our chambers but also a shared commitment to growth and prosperity for our countries. We look forward to a productive collaboration.
Mr. Aminuddin Mat Ariff, Lead Technical Cooperation Specialist, (ASIA) Reverse Linkage, IsDB, commented during the ceremony that:
This is the first time the IsDB through the Reverse Linkage modality had the opportunity to facilitate an alliance of two Chambers of Commerce from its member countries. It is a concrete positive spillover effect resulting from the Reverse Linkage project between Uganda (recipient) and Malaysia (provider) in Halal Ecosystem Development currently being implemented where Serunai Commerce Sdn Bhd (Malaysia) is sharing its knowledge and expertise with the Ugandan Halal Bureau as the main recipient in Uganda. It is hoped that this will further showcase the value addition of the IsDB's SSTrC endeavours in an effort to foster more intra trade and enhance commercial collaboration among member countries.
The ceremony was attended by several distinguished guests and business leaders who shared their support for this initiative, which is expected to boost economic activities between the two nations.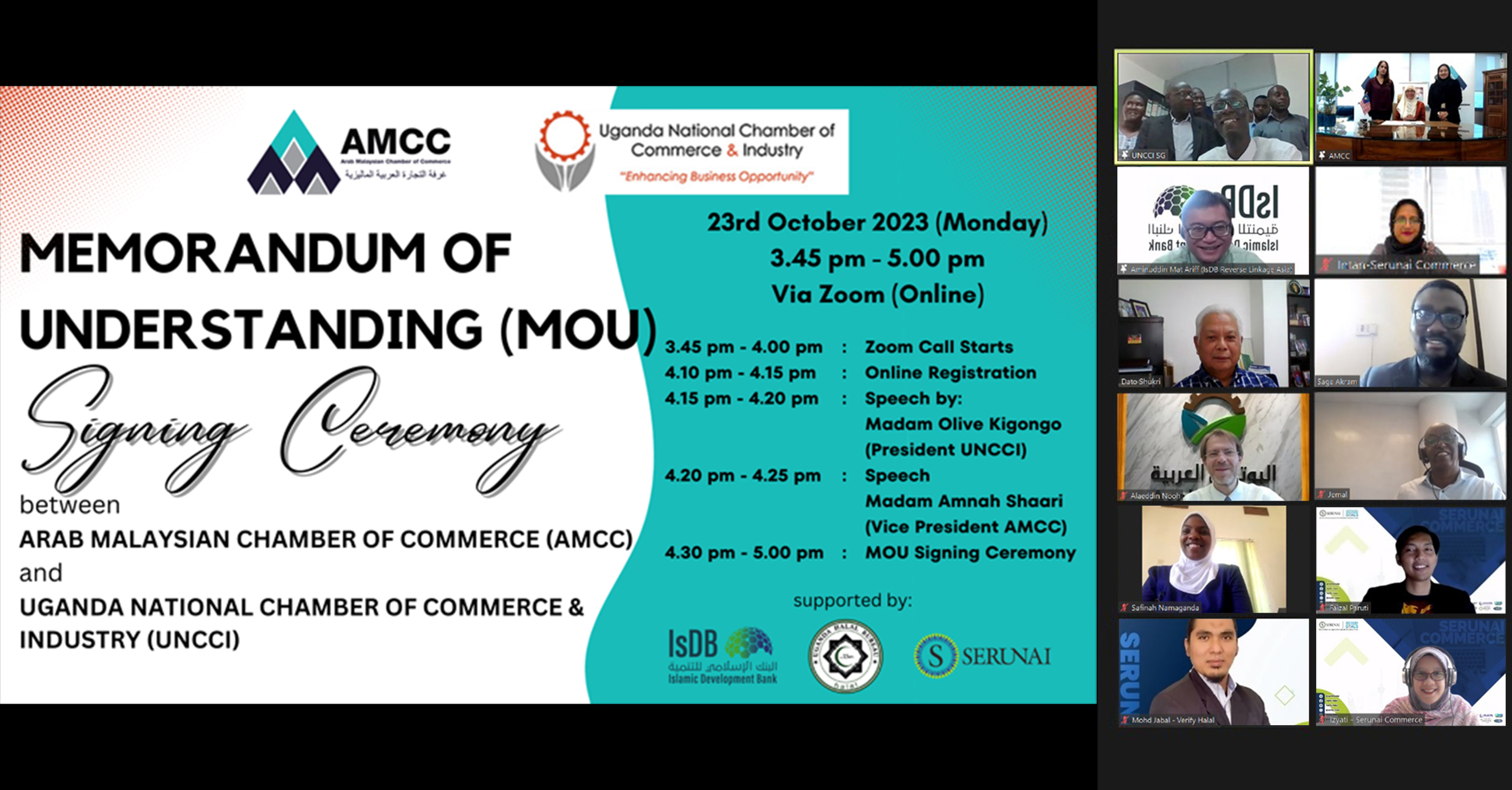 This partnership between UNCCI and AMCC reflects the dedication and efforts of the IsDB Reverse Linkage division in promoting South-South cooperation and fostering collaboration between member countries.
For media inquiries, please contact:
Ms. Intan Suriya
secretariat@amcc.com.my
+60 12-6766 534